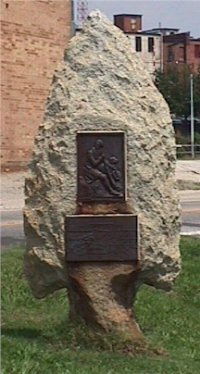 North Wilkesboro, NC Monument
The research found some very interesting facts...

Mr. Rich was a Good Roads advocate. He conceived the union of 18th-century Daniel Boone, and his success as a Trail-Blazer, to the early 20th-century need for highway improvements. So beginning in western North Carolina, and eventually spreading across the nation, Mr. Rich built several hundred monuments marking a Boone Memorial Highway stretching from the Atlantic to Pacific coasts with a cross-link from Detroit to Jacksonville.

Incorporating metal from the Battleship Maine in each tablet, and dedicating each monument with patriotic fervor, Mr. Rich's work was established as unique, significant and memorable.

The book's 13 chapters report on the five main goals of the Boone Trail Highway and Memorial Association that was managed by Mr. Rich. An additional section of the book, Rich Man: Daniel Boone, is devoted to an inventory of the 135 known original sites of Mr. Rich's monuments, complete with historical reference citations. Mr. Rich reported in this Association newsletter, The Boone Trail Herald, that 358 tablets were placed; some newspaper accounts make the number over 400.