By Ann Brownlee
For the Salisbury Post
Iím something of a pacifist, perhaps a strange claim for someone involved in battlefield preservation. On a visit to Nashville several years ago, as battlefield preservation friends headed for the state war museum, I said, ďIím not into war,Ē then quickly added, ďIím just into battlefields.Ē
Battlefields evoke passion. They are places where cataclysmic events in our nationís history occurred. They are places of conflict, places where shed blood sanctifies and hallows the ground. They are places that evoke the qualities of valor, sacrifice, and heroism.
Itís not surprising that the road to battlefield preservation often reflects the conflict upon which it is based. Human nature comes into play. We often take our local history for granted, while visiting far away historic places. We sometimes fail to recognize that a place which looks locally typical is distinguished, not by its appearance, but by what happened there. We sometimes fail to recognize that neglected historic landscapes can be restored the same way neglected historic buildings can be. We sometimes mistakenly think that if it hasnít already been preserved, it isnít worth preserving. We sometimes think that everything else is more important than our heritage.
The history of battlefield preservation is driven by local advocacy. We would not have Gettysburg if one of the local residents hadnít begun buying battlefield land weeks after the battle ended. We would not have Guilford Courthouse (Greensboro) were it not for the tireless efforts of David Schenck more than a century ago. All over America local advocacy groups work to save our nationís history, while even National Parks continue to fend off development threats. The Civil War Preservation Trust projects that thousands of the nationís unpreserved Civil War battlefields will be lost within the next decade.
Itís unfortunate that our state, which we are proud of in so many other respects, has one of the worst records of battlefield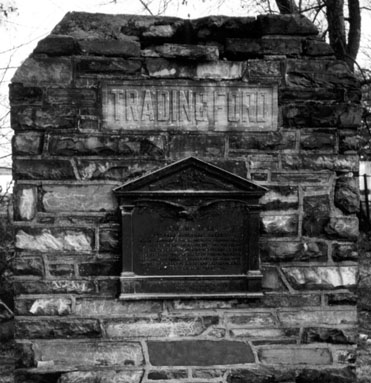 STORIED SITE: A marker commemorates Trading Ford's role in the Revolutionary War.
preservation in the nation. To a large extent, itís due to a lack of vision at the state level. South Carolina has seen a resurgence of battlefield preservation in recent years. Theyíve surveyed the stateís historic landscapes, something North Carolina has yet to do. Theyíve created three Revolutionary War national heritage areas, and a fourth is currently before Congress. Theyíve created a new state park at Musgrove Mill, and are working toward a new National Park at Camden.
Tennessee has a Wars Commission under its state history division, devoted to preserving and developing heritage tourism on sites where conflict occurred on the stateís soil. They have only a small staff and a limited budget, but theyíre headed by an innovative dynamo whoís making laudable progress. Virginia we donít even want to talk about!
Amidst all this, North Carolina remains an oasis of inactivity. Cowanís Ford, Trading Ford, Shallow Ford, Weitzellís Mill, Lindleyís Mill, Colsonís Mill, head the list of the Piedmontís unrecognized historic treasures.
The historic Trading Ford area is at a crossroads. Lands that had been ignored for decades, by both historians and development, have seen an enormous increase in development interest over the last five years. The potential is evenly balanced to save this historic area, and glean its tourism and educational benefits for generations to come,
or lose it forever.
11,500 years or more ago, Native Americans were the first people on the land. The Trading Fordís history may include a sixteenth-century Spanish fort. It encompasses early settlement roads, fords, and ferries, and the site of North Carolinaís first covered bridge. It includes Revolutionary War sites, part of the fabric of the war when Americaís independence was born. It includes the site of NCís last Confederate victory during the War Between the States. It includes a succession of twentieth-century roads and bridges. Despite the tremendous political opposition waged by NCDOT, the National Register eligibility of these sites, and the district as a whole, remains unresolved.
Most pressing of the threats to our heritage is the proposed High Rock International Raceway complex. In one fell swoop this would destroy the heart of the Civil War battlefield, the character of the land adjacent to the covered bridge site and three other fords and ferries, the stream along which Revolutionary War armies camped, and the gateway to the entire area.
The Town of Spencer, led by promises of economic benefits that may never be realized, stands out as embracing the racetrack, while most of Rowan county remains skeptical. Spencer Aldermen have annexed the land and passed zoning to allow the racetrack without even paying lip service to its historic value. The final public hearing to grant a Conditional Use Permit is scheduled to be held before the townís Zoning Board of Adjustments on August 3rd.
The history which occurred on the Yadkin is our shared common past. It belongs to all of us. Development will increase tremendously in the Piedmont in the next quarter-century. Do we have the foresight to save a few special places, for our children and our childrenís children? We must speak now, or forever hold our peace. Tomorrow will be too late.
Ann Brownlee is President of the Trading Ford Historic District Preservation Association.